Fantastic night and Baz did a great job great mix of music and the karaoke worked really well. Would 100 percent recommend BeatsAhead had great service. Thanks again.
Karyn
24/10/21

Dan was absolutely brilliant. He pitched the two discos just right - more games for the younger children, more dancing for the older kids, just the right amount of interaction for both. The children loved it - they're already asking when the next disco will be! - and the teachers thought he was brilliant, too. Thanks for making one of our first big school events post-Covid so much fun!
Catherine
14/10/21

Absolutely fantastic We have used you many times before and the djs are always spot on with relevant music for the age groups. The children loved their year 6 leavers disco, most said it was the best night of their lives. Dan was amazing again- thank you Forestdale Primary School
jane
22/07/21

Absolutely brilliant Baz was spot on! Everyone had a fantastic time! The day was superb! Cannot wait for another event to come along so we can book beats ahead again!
Kim
Wedding DJ
03/07/21

Baz was a brilliant host and took care of everything. We were very happy with the party and Baz's professionalism and enthusiasm.
Diane
28/06/21

DJ Baz exceeded our expectations! He was interacting with the children, right from the start, and not just by using the mic, but actually getting in amongst them. The children (and parents) all had a fantastic time, and we would highly recommend.
Natalie
28/06/21

Baz is really gifted! He captured the attention of the children and held it for the entire event. He is one of those rare people who just seems to 'get' kids. The fact that he led by example – dancing with the children and making sure he was on their level really put them at ease. Thanks Baz for a super event!
Maria
28/06/21

Baz was first rate Would definitely book him and yourselves again. We will definitely recommend you to family and friends. Thank you so much for a great night.
Jill
17/02/20

Karaoke Christmas Party Great!! We had a really, really enjoyable night at our work Christmas party. We had a variety of ages and nationalities. Everyone was able to join in with the classic tunes. Michelle was very patient and helpful with us all!
Mary
17/12/19

Baz did great! He was on time and he had some great Children's Christmas music which was exactly what we were looking for during the party. We also asked him to do a little entertainment which he did great as well! He was very accommodating and kind. Thanks Baz!
Sophie
09/12/19

The party was just magical! DJ Baz was amazing and our guests danced the night away till the early hours!
Veerle
02/12/19

Very good. Baz got the system hooked up with the Pub's own system and also looked after a silent disco system we had hired. He was extermely helpful and the music was great. He sorted things out to ensure the pub did not get into trouble for noise level (they have a complaining neighbour who had got the council involved). Michelle was also excellent - dealt quickly and well with everything that came up in the course of the booking.
Matt
24/11/19

Amazing!! Ozzy really knew how to read the crowd and kept a variety of ages very happy!! Would totally recommend you and will definitely be booking again in the future!!
Dawn
10/11/19

Dani was absolutely fantastic. He played all the right songs and has everyone up on his feet. It left us to enjoy our evening with no issues or worries.
Katie
04/11/19

Quincy was excellent There was a wide range of ages at our event and Quincy got everyone onto the dance floor including 79 year old parents!! He played appropriate tunes for our YMCA themed fancy dress party- would definitely recommend him for any future events..!
Anna
08/10/19

Baz is Absolutely priceless!!! Is there anyone better to make sure a party is a success......I really don't think so. Baz and Michelle Thank you so much, everyone enjoyed themselves and the selection of music was fantastic. This is the second time we have booked Baz and he is now our family DJ
Sue
07/10/19

Baz played a good selection of music for our students to enjoy. He really got the party moving and all students who attend had a good evening. Would definitely recommend if you are looking for a DJ to hire for an event.
Natalie
01/10/19

Ricky Ricky was a great DJ. We had a really great night. Would use again
Catherine
29/09/19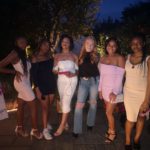 Ryan was Amazing!!! DJ Ryan kept my daughters 16th birthday party going strong for 5 hrs! He arrived on time AND was a lovely person! Her party was so 'lit' she and her friends have asked us to throw another one to celebrate the end of exams in the summer! Michelle was great too and kept me informed and reassured every step of the way
Charlene
14/09/19